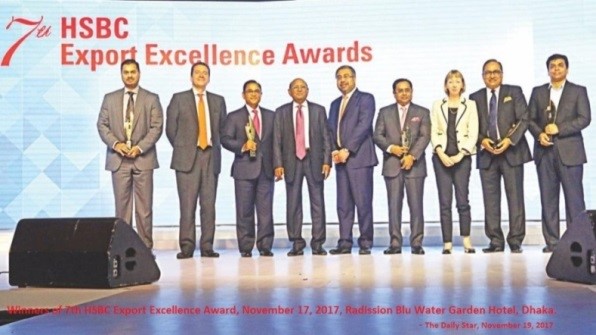 Square Fashions Ltd. won the 7th HSBC Export Excellence Awards 'Exporter of the Year' trophy in the RMG category (Group-A)
HSBC Bangladesh has recognized 5 local exporters for 5 different categories for their contribution to the nation's sustainable growth. The judgment criteria were: Financial, Business Diversity, Special Achievements, and International & National Recognitions, Contribution to Bangladesh Economy, and Compliant and Sustainable Business Practices.
SQUARE Fashions Ltd., a sister concern of Square Group, won the 'Exporter of the Year' trophy in the Ready-made Garment category (Group-A) for annual export turnover of more than USD 100 Million. Mr. Tapan Chowdhury received the award from Mr. Tofayel Ahmed, Honorable Minister, Ministry of Commerce, the People's Republic of Bangladesh at the ceremony held on November 17, 2017 at Radisson Blu Water Garden hotel. This Award has been recognized as a unique Awards platform in Bangladesh Business Community, whereby Bangladeshi exporters, contributing to the robust flow of remittance to the economy and promoting the proud 'Made in Bangladesh' brand across the globe, are recognized and awarded for their efforts.
Square Fashions Ltd. produces products for about 25 worlds renowned buyers namely – Puma, Hugo Boss, Marks & Spencer, S. Oliver, G-Star Raw etc. and exports to almost 75 countries of the world.