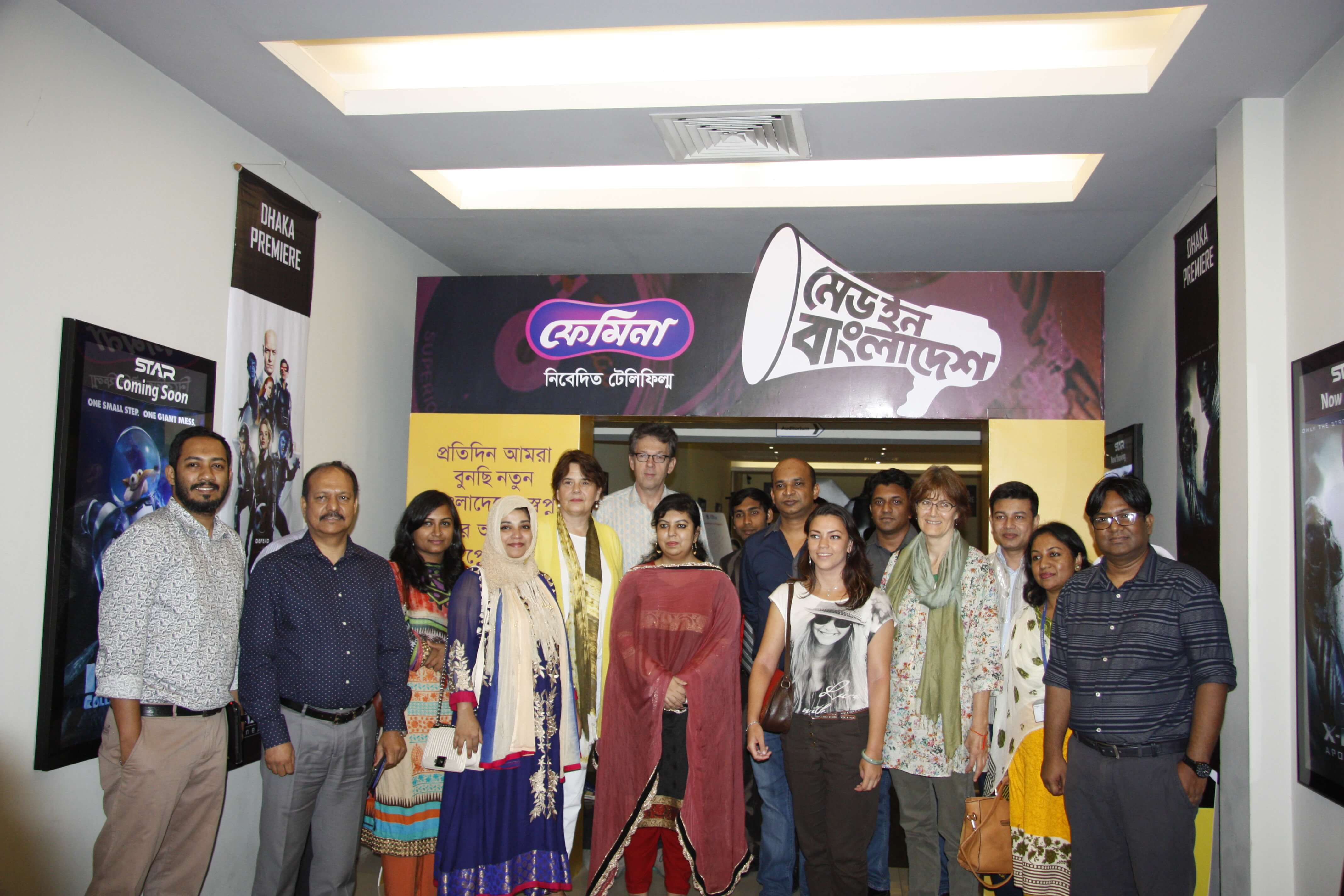 'Made in Bangladesh' Film shown on World Menstrual Hygiene Day
The 'Go Bangladesh' project prepared a screening of a telefilm at Bashundhara City's Star Cineplex on the occasion of World Menstrual Hygiene Day. The telefilm is named 'Made in Bangladesh'. This movie depicts the daily struggles of female garments workers in Bangladesh. Representatives of the embassy and other notable individuals attended the show.
Period is a very natural, healthy phenomenon. But it's still seen in a negative light in many communities around the world. It is considered a taboo subject. Many countries still do not allow for open discussion regarding this issue. The time has come to lift the taboo. But to do that, we must first understand where the problem comes from.
One of the reasons why it is still difficult to ensure a healthy period for all girls is that they are not given enough or proper information about this issue. This leads to problems that girls face in their work, academic and day-to-day lives.
But these problems can easily be avoided. There are figures who play an important role in girls' lives, such as their teachers, health experts (especially gynecologists), or HR/Admin Officers. If they open and talk about the issue of periods frankly, that would do wonders for ensuring healthy periods for women.
Surveys have shown that 40% of girls miss school every month for at least three days due to period related issues. Their teachers also seem to miss class during periods. Female workers miss work 6 days on average per month due to periods. 97% of women have suffered cervical infection due to unhygienic periods. Periods are still seen as a sign of maturity and 68% of the country's underage girls are being forced to marry within 1 to 4 year/s of their first period. Surveys show that only 14% of the women in the country use sanitary napkins. Others use pieces of clothing, which can be very unhygienic.
To raise awareness regarding these issues and to help solve them, SNV and Square Toiletries Limited a sister concern of Square Company have come forward. SNV is a Netherlands-based organization that has been working tirelessly to raise awareness regarding female Sexual Reproductive Health & Rights (SRHR), and is trying to better the lives of female workers. Under this project, Square Toiletries Limited is providing sanitary napkins to female garments workers at highly discounted prices. Sr. Marketing Manager of Square Toiletries Limited Ms. Jesmin Zaman is looking after this project. Three garments companies named Millennium, AKH and Echotex are participating in the 'Go Bangladesh' project and are benefitting from its offerings.
Deputy Head of Mission of the Embassy of the Kingdom of Netherlands Ms. Martina Van Hugstratendelivered her valuable speech before showing the film. Also present were Ms. Ella De Voogd, the First Secretary of the Embassy of the Kingdom of Netherlands, Team Leader of the Bangladesh project of SNV Netherlands Development Organization Ms. Farhtheeba Rahat Khan, plus high officials of RHStep, Square Toiletries Ltd, SNV, representatives of the embassy, the makers of the film and international buyers and owners of leading RMG factories.