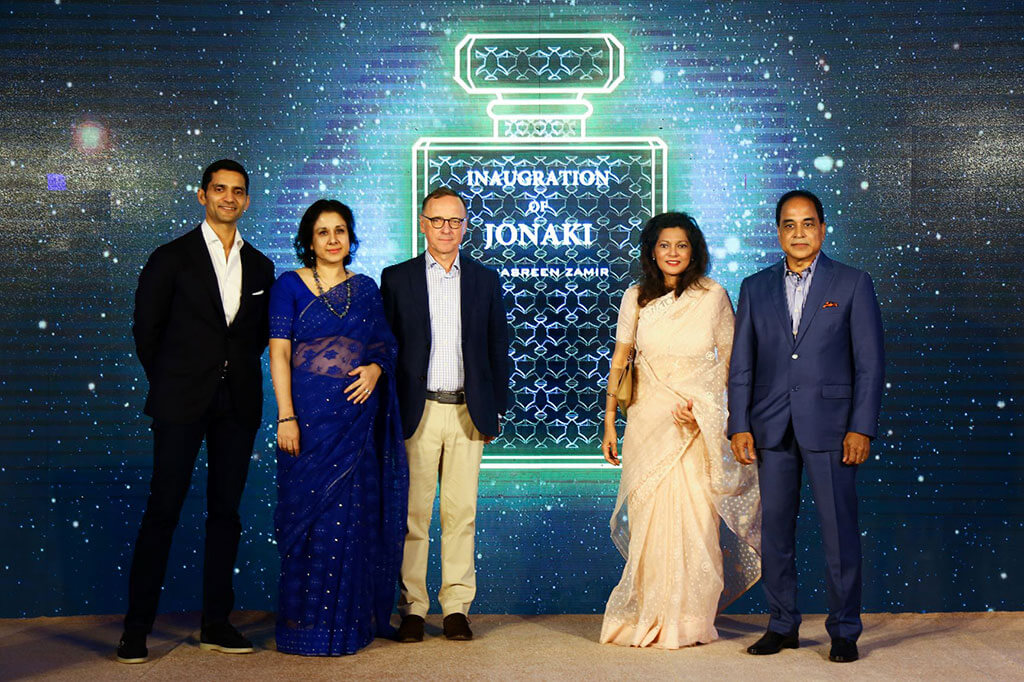 'JONAKI' By Nasreen Zamir– A Brand New Fragrance Hits the City
A brand new perfume 'JONAKI' has been launched in Bangladesh on 28th February at Westin Ball Room, Dhaka. Jonaki the firefly from Bangladesh is the theme for this new fragrance line which signifies happiness, energy and freedom.
This is the first time a Bangladeshi Interior Designer and Entrepreneur Ms. Nasreen Zamir has introduced a fragrance line offering our people a quality fragrance with affordable prices. Her fragrance brand is Jonaki that has been designed in Bangladesh, Inspired by France and made in Malaysia. Ms. Nasreen Zamir sourced many precious natural extracts and essences from all over the world to blend unique fragrances.
The perfumes have three different scents for women and two scents for men. The new three ranges for women are Freesia Nights- Floral Fresh, Neroli Blossom- Citrus & Fresh and Oriental Jasmine- Floral & Woody. Fragrance with floral, citrus, fresh scents has been specially designed for women. On the other hand, the two ranges for Men specially designed with the woody, musky and aromatic scent are Amaretto- Classic & Aromatic and Santal Tabac- Woody & Musky.
Mr. Anjan Chowdhury, Managing Director, Square Toiletries Ltd. spoke at the launching event. He, in his speech, expressed that the brand "JONAKI" will be recognized as a signature brand in all Bangladeshi Festivals.
At the start of the event Ms. Nasreen Zamir was introduced by Mr. Zarif Munir, Managing Partner of Boston Consulting Group. Also, the event was graced by the presence and speech by H.E. Mr. Harry Verwaij, Ambassador, Embassy of Kingdom of the Netherlands and Ms. Lamiya Morshed, Executive Director, Yunus Centre The guests expressed their ideas, preferences and thoughts about the new perfume.
This new perfume, JONAKI will exclusively be available at Perfume Bangladesh, Dhali, Unimart, Little India, Almas, Al-Madina Trading, Shabuj Enterprise, MRR and other renowned perfume carrying shops. All the ranges will also be available on Ecommerce sites – Shajgoj.com, Bagdoom.com, and other online shops.
Square Toiletries Limited is the sole distributor of this perfume range.