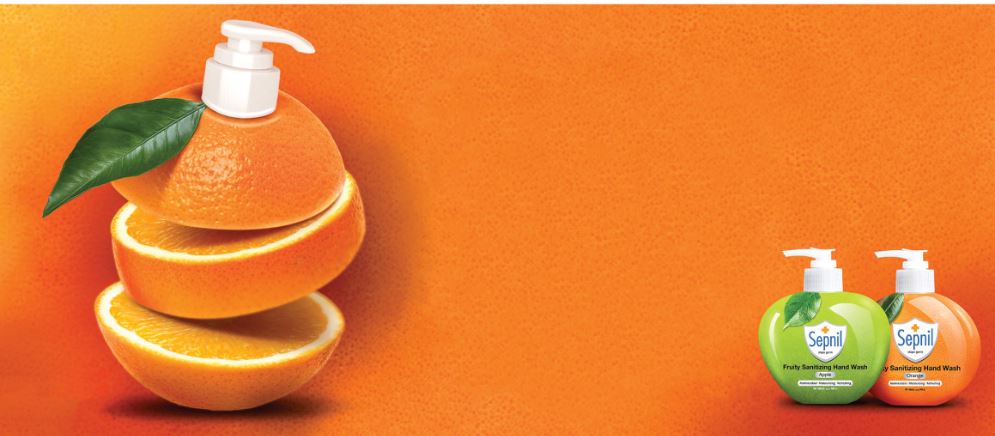 Healthful living with Sepnil Hand Wash
Pandemic or not, we are exposed to germs and bacteria which can make us feel sick and gloomy. Particularly, our hands can get contaminated as we go about our day touching different surfaces. We use our hands for almost every activity which leaves them prone to injury, environmental damages, skin health deterioration, infestations, attracting bacteria and other damages.
Puja Sarkar
Tue Jul 13, 2021 12:00 AM
Maintaining the cleanliness of our hands is prerequisite to maintaining overall health as we tend to unconsciously touch our face every now and then. So, it remains imperative that we use the best product to ensure maximum cleanliness and health for our soft, supple hands.
To keep our hands germ-free and safe from harm, Square Toiletries offers a range of products, including Sepnil Sanitizing Hand Wash, which promises everything needed to secure personal cleansing and hygiene needs along with optimising skin health. With its cleansing and healing properties and having been in the market for some time now, Sepnil Sanitizing Hand Wash is a well-known name in every household.
Nowadays, it is challenging to find a good liquid soap which removes dirt effectively and has sanitising properties without damaging skin while washing hands. With knock-offs and counterfeit products everywhere, hygiene and cleanliness is being put to risk at a time when it is needed the most. Sepnil Sanitizing Hand Wash is addressing this issue with their authentic and beneficial range of hand wash to provide every household and establishment with a reliable, safe and effective product for hand washing.
In most cases, ordinary hand washes are only strong enough to wash away the dirt or grime which is visible to the human eye. Sometimes, this is not enough. Throughout the day, our hands come in contact with dirt particles and various harmful microorganisms without our knowledge. This can negatively impact our health and expose us and our family members to diseases and infections.
Sepnil Sanitizing Hand Wash is designed to combat such harmful particles and invisible bacteria. It not only removes visible dirt, but also cleanses and sanitises one's hands, restoring its cleanliness and rosy glow. Using the hand wash easily helps to remove and stay safe from these harmful particles and microbes.
Sepnil Sanitizing Hand Wash is powerfully effective against the invasion of bacteria and virus on hands. Along with the benefit of having spotless and clean hands after using Sepnil, one's hands will be left smelling fresh as daisy and moisturised. One of the unique characteristics of this product is its good fragrance and its moisturising capabilities. It ensures the cleanliness of hands without causing harsh damage to skin or leaving an overly disinfectant-like lingering smell.
The hand wash comes in two fruity variations of apple and orange, and two natural variations of marigold and tea oil. These sanitising liquid hand soaps not only restore palm health and cleanliness, but also make hands soft to the touch leaving behind a fruity and natural smell.
Additionally, it is fortified with essential ingredients, which cater to healing invisible abrasions and scratches on hands. These scratches can potentially turn into infections and attract more germs if left unattended, causing skin damage and other complications. Sepnil Hand Wash liquid prevents such dreadful occurrences. It promotes skin health and skin beauty, which keeps our hands at their best health and looking its finest.
Our hands enable us to work and move about, touch and feel, communicate with our loved ones and make gestures. Not only are our hands a part of our anatomy, but also serves the purpose of human connection. So, to keep our hands healthy, it is crucial to use authentic hygiene products like Sepnil Sanitizing Hand Wash which promote skin vitality, cleanliness, and radiance.
News Source: https://www.thedailystar.net/lifestyle/news/healthful-living-sepnil-hand-wash-2128421