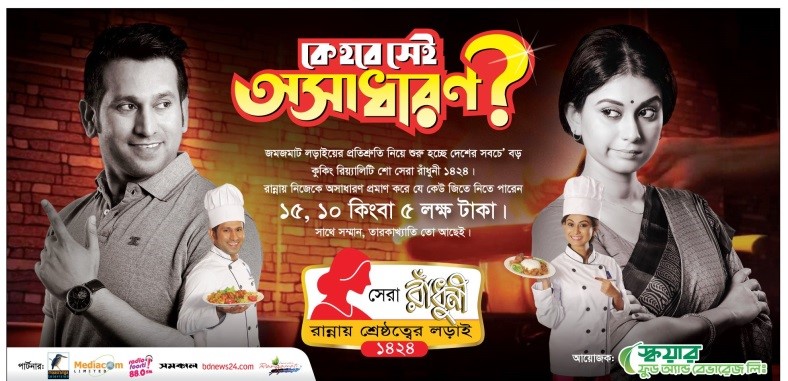 Shera Radhuni 1424- Bigger, Better!
The biggest cooking reality show of Bangladesh- Shera Radhuni returns with its 1424 edition with more grandeur. In the quest for searching the extraordinary culinary artists from every nook & cranny of the country, this time it has added new dimensions to 'wow' the audience. The captivating thematic episodes ('পুরাই লোকাল স্বাদ', 'পারলে খাওয়াও' & 'তেল দেয়া বন্ধ') of সেরা রাঁধুনী ১৪২৪ required the contestants to not only present finger-licking cuisines in front of the esteemed judges but also prove their abilities to cook within set themes.
The journey had kicked off with thousands of participants with only 16 promising ones making it to the studio rounds after several rounds of screening by renowned Chef Subhabrata Maitra. The show has already got its top 5 who managed to survive to fight the ultimate face-off in the Grand Finale. The program is aired every Friday & Saturday at 9.00 pm on Maasranga Television but only one will be crowned the "সেরা রাঁধুনী" of the show. May the best one win!