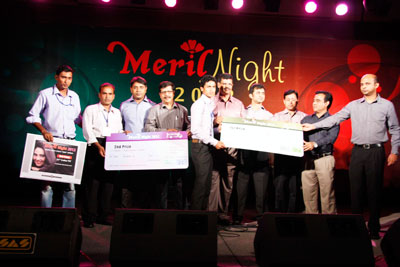 Retailers awarded for "Jeteo Paren, Peteo Paren"
A colorful award giving event called Meril Night 2012 "Jeteo Paren, Peteo Paren" was held on 27th April.2012 at the Radisson Blu Water Garden Hotel Ball Room. Every year, Square Toiletries Limited arranges this event where retailers are awarded upon their contribution of winter gift promotional campaign.
It is to mention that this winter campaign ran from October 2011 to December 2011. In this award giving ceremony 418 retailers were honored. Besides celebrating their success, this summit has helped the company to establish & retain one to one communication with these retailers.
Among the all participants 2 participating retailers were awarded to visit Nepal and Cox's Bazar separately. 20 other retailers received color televisions, digital cameras along with other attractive prizes.
Other than congratulating the retailers and wishing their success in business for coming days, the overall business perspective and specialty of Square Toiletries Ltd. has been discussed in the program.
In this event the managing director of Square Toiletries Limited Mr. Anjan Chowdhury gave his pre recorded speech, where he appreciated the retailers' cooperation and coordinated efforts to the journey of Square Toiletries Limited. He also expressed his wish for the Square & other local companies, which can represent Bangladesh as a potential brand in front of the world community.
AGM Sales of STL Mr. Abu Tayeb Siddiquee also gave a speech at the program. Another speech was shared by retailer representative Mr. Md. Rafiqul Islam.
It should be noted that Square organizes this type of motivational event for retailers throughout the year.
Popular & celebrated voice artist Mila performed on 'Meril Night 2012' that amused the participated guests. The program ended with a raffle draw and dinner.