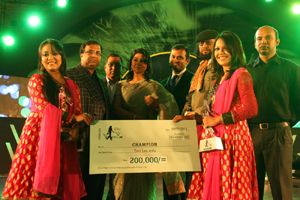 Meril Revive Busy Der Easy Show 2011
The Grand Finale of Meril Revive 'Busy-der Easy Show' was successfully held at the Celebrity Hall of Bangabandhu International
Convention Centre on the 9th March 2011. Everyone was waiting in breathless anticipation as to who the winners would be. The winners of this mega reality event were Farzana Afroze and Tahasina Rafa from Rahimafrooz while the runners-up were Sumaiya Jannat and Tanjeri Hoque from Eastern Bank Limited. All the 24 contending teams including the four finalists The City Bank, Rahimafrooz, Eastern Bank Limited and Brac Bank were present at the Grand Finale. Top level executives of various corporate houses were also there.
For the very first time in Bangladesh, a reality show in the form of Meril Revive 'Busy-der Easy Show' has been designed which focuses on corporate ladies, and celebrates the spirit of active women. This year, the season II of this reality show has been aired. 'Meril Revive', a renowned brand under Square Toiletries Limited, was the sponsor of the show.
The celebrity judges at the Grand Finale charmed the event with their participation. Astrologer cum lyricist Mr. Kawsar Ahmed Chowdhury, beauty expert Kaniz Almas Khan, band singer Naquib Khan, cricketer Khaled Mahmud Sujan and Habibul Bashar Suman were present as judges during the different parts of the show. Mr. Malik Mohammad Sayeed, Head of Marketing of Square Toiletries Limited, and Mr. Enayetur Rahman, Managing Director of NTV along with the judges handed over the prizes to the winners.
The media partners for Meril Revive 'Busy-der Easy Show' were Daily Samakal, Radio Today and Bangladesh Info. The reward partner was Square Hospitals Ltd. Whereas, Micromax was there as the mobile partner. The look partner for the show was Persona while Mr. Naveed Mahboob anchored it all through. The champions of Meril Revive 'Busy-der Easy Show' won an amount of BDT 2 Lac from Square Toiletries Limited.
The Grand Finale of Meril Revive 'Busy-der Easy Show' will be on air on NTV at 9:15 pm, the 19th March of 2011.