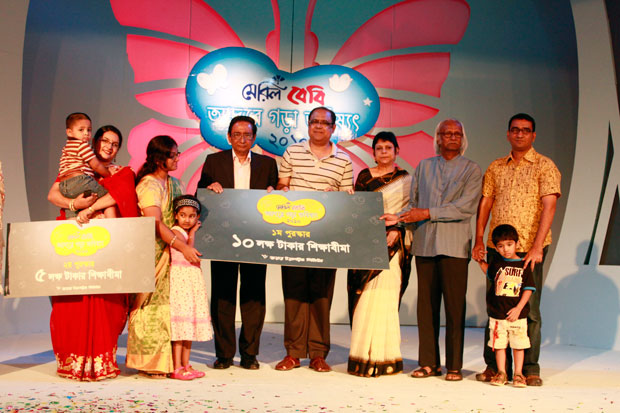 'Meril Baby Adore Gora Bhobishshot 2010' closes with a spectacular award distribution ceremony
The 'Meril Baby Adore Gora Bhobishshot 2010' program initiated by Meril Baby, a brand of Square Toiletries Limited, concluded on Friday, June 24th with a memorable award ceremony. The gala function and award declaration took place at the Winter Garden in Hotel Ruposhi Bangla. The first and second winners of the program were awarded with education insurances worth Tk. 10 lac and Tk. 5 lac respectively.
The central theme of 'Meril Baby Adore Gora Bhobishshot 2010' was cheerful happy & loving moments with one's child. Thousands of mothers from 7 different divisions of the country sent photographs to participate in the program. Based on these photographs, the judges chose 70 lucky mothers along with the winners to attend the gala round in Dhaka.
Mr. M. Ashiqul Hoque Chawdhury, Executive Director (Admin.), Square and honorable judges – acclaimed artist Mr. Kaium Chowdhury, distinguished psychologist Dr. Mehtab Khanam & popular photographer Mr. Iqbal Ahmed handed over the awards to the winners. It should be noted that this was the 6th consecutive annual award ceremony for the program held by Square Toiletries Limited.
Children are our future. They deserve love and care from all of us. That is why Square Toiletries Limited produces the best childcare products in the country like baby lotion, baby shampoo, baby powder, baby gel toothpaste and baby oil under the Meril Baby brand. 'Meril Baby Adore Gora Bhobishshot 2010' is a consumer focused program that highlights the mother's love that plays the central role in building up a bright future for the child.
The 'Meril Baby Adore Gora Bhobishshot 2010' award ceremony was packed with uniquely entertaining performances. Along with kid's dance & recitations, the program also had amusing skits & musical performance of Samina Chowdhury and Kanak Chapa. Musa Ibrahim, the first Bangladeshi to conquer Mount Everest, took part in one of the skits.
The winner of the 1st prize (education insurance worth Tk. 10 lac) was Roselin Anthoney from Dhaka and the 2nd prize (education insurance worth Tk. 5 lac) was won by Dr. Farhana Joya Chowdhury from Sylhet.