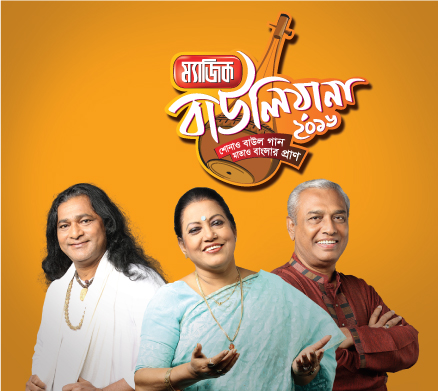 Magic Bauliana is launching from today on Machranga television
Launching today the folk songs reality show 'Magic Bauliana 2016' on Machranga television. This competition of folk songs program will be telecast on every Friday and Saturday at 9 pm. The main judges of this show will be Farida Parveen, Kiran Chandra Ray, Shafi Mandal.
To serve the purpose of creating incessantly appeal and introducing with our roots among young generation is the main concern of presenting this show, brand Magic of Square toiletries limited and Machranga television are producing this show for the second time.
The second stage of primary selecting started on 2nd September, 2016. Huge number of competitor took part in it. After completion of audition, 40 participant had been selected for final stage. The final stage of this competition is starting with this 40 participant on Machranga television. Three best performer will be selected based on their perform in different stages of competition and they will be the winner of this show. The three winner will receive following prize money- 500,000, 300,000 and 200,000.
This program will be re telecast on Saturday and Sunday at 2.30 pm. This program is arranged by Machranga television and funded by Square Toiletries Limited. Event management by MediaCom Limited and fashion partner is Bissho Rong.