Folksong based reality show Magic Bauliyana 2016 begins soon
To find out new folk singing talent in Bangladesh, 'Magic Bauliyana 2016' is all set to launch on Maasranga Television. Magic– a renowned brand of Square Toiletries Limited took this initiative for the second time to introduce the eternal appeal of Bengali folksongs to our young generation. The announcement was made on August 8 in a press meet at Pan Pacific Sonargaon Hotel, Dhaka. In this program, the mnemonic and the name of the honorable judges of Magic Bauliyana 2016 were revealed; also a promotional video along with an audio visual presentation on the glorious culture, the breakthrough artists and present-day attitude towards folksongs were shown.
Mr. Malik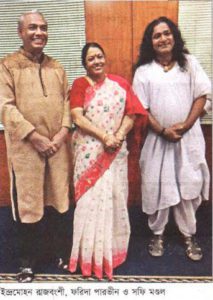 Mohammed Sayeed, Head of Marketing of Square Toiletries Limited, Mr. Sarwar Hossain, AGM (Accounts and Finance) of Maasranga Television, Mr. Golam Kibria, GM (Accounts) of Square Limited and honorable judges of the contest, Singer Farida Parveen, Indramohan Rajbongshi and Shafi Mandal graced the occasion with their presence. Also noted singers Kiran Chandra Roy, Chandana Mazumdar, Anima Mukti Gomes, Devprasad De and Shahnaz Belly were present at the event as special guests.
On initiating this event for the second time, Mr. Malik Mohammed Sayeed, Head of Marketing– Square Toiletries Limited said, "Bengali folksongs are like gem to our culture. But its appeal hasn't been uphold in a right way in front of our young generation. In order to do this, Maasranga Television and Square Toiletries Limited have arranged Magic Bauliyana in 2013 and 2014. We believe, with the help of this project we could find the next Farida Parveen, Indramohan Rajbongshi, Shafi Mandal from the musicians who has the love for folksongs in their hearts and who will never let the Bengali folk music to get extinct."
Mentioning 'Magic Bauliyana notably different from other reality shows' Mr. Sarwar Hossain, AGM (Accounts and Finance) said in his speech, "Magic Bauliyana belongs to that integral plan of Square Toiletries Limited of spreading the Bengali folksongs to every possible corner of the world. It is not like any other talent hunt; rather it is a program for every Bangladeshi. I would request our journalist friends to spread the news of this program to everyone. This would definitely help enriching our culture."
Folksongs are like the songs of every people in Bangladesh. Despite many ups and downs, it is equally loved by all and never loses its appeal till today. 'Magic Bauliyana' would create a platform to display the power of our folksongs in the world arena once again. This contest is open for all. Any individual of our country can participate in this competition.
The registration for the competition will start from 8 August 2016. Interested participants can register through online and phone call. To register through phone call, one has to dial 08000888000. And to register online, they have to visit Magic Bauliyana website— www.magicbauliana.com
For the primary selection round, the country will be divided into 10 different zones. Some famous Baul singers will primarily select 60 singers from these 10 zones. Then there will be the 2nd round, where 40 of them will be selected. The studio round will begin with selected singers after a proper grooming session. The final competition will start from here and after quite a few episodes; three best singers will be announced as 'Magic Bauliyana' winners.